HoGS Spring Gamesfest 2020
REIGN ABSOLUTE TOURNAMENT

Running across the entire HoGS Spring GamesFest weekend, the Reign Absolute tournament is open to all. Are you the best rapid strategist in Hobart? We're here to provide you with the opportunity to prove yourself. Face off against the best (and worst) that Hobart has to offer: will you be the one to Reign Absolute?
---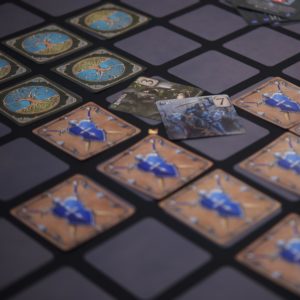 However, we know that for some of you just winning isn't enough. That's why we're upping the stakes. $100 cold, hard, covid-friendly cash to 1st place. Good Games Hobart / Area 52 vouchers for second and third, $50 and $20 respectively. Even better than that, ALL entrants to the Reign Absolute tournament will get their hands on FREE Reign Absolute merchandise worth over $27!
The games will be played using a group tournament ranking system: i.e., winning a match (best of 3 format) will net you 2 points. Losing will cost you 1 point. Come Sunday afternoon, the four highest point holders will qualify for the semi finals, at which point the tournament will become a standard knockout format. If you were curious about the actual GAME rules, we'd suggest you take a further look at our website; we have a lovely 'How To Play' video listed here for your viewing pleasure. We'll also be running gameplay demonstrations on Saturday morning (October 3), for those of you who'd prefer the live rendition. We'll be playing with 'Tournament Rules': the game space will be a 10×10 grid with the 'Exposed Supply' and 'Swap 2 After Setup' rules enacted.
---
The preliminary games will begin on Saturday afternoon (October 3). In these preliminary matches, you can play as many people as you like; however, you cannot gain additional points from re-matches, so make sure you're versing different people! If you do re-match someone, we'll just count the points from the most recent match. After the preliminary games finish, the semi-finalists and finalists will play on Sunday afternoon (October 4).
The Gamesfest as a whole is being held at 22 Creek Road, Hobart and will run 9AM – Midnight Saturday and 9AM – 4PM Sunday.
Be there or, as they say, be square.
-Team Reign Absolute